Brought up and educated in Nigeria, Margaret Ogunbanwo set up her business, Maggie's Exotic Foods, in an attempt to recreate some of the culinary delights that she was brought up with. The business was inspired by Maggie's passion for her African heritage, love for food, cooking and seeing young people, especially women, grow to their full potential.
Maggie's Exotic Foods was established in 1997 and offers a range of authentic homemade products, exotic ingredients, including spice mixes, sauces and pastes, and provides catering services, cookery demonstrations and classes. The business also supplies vegan, vegetarian, dairy-free and gluten-free ingredients, and offers gift packs, enabling customers to make their own exotic food mixes.
Margaret began her Welsh business adventure after moving with her family to a small village called Penygroes in Gwynedd in 2007. She started offering cooked African food at her local farmers' markets and was inspired to open a local café in her home. Launched thanks to advisory and financial support from Business Wales, this was her first major venture in Wales.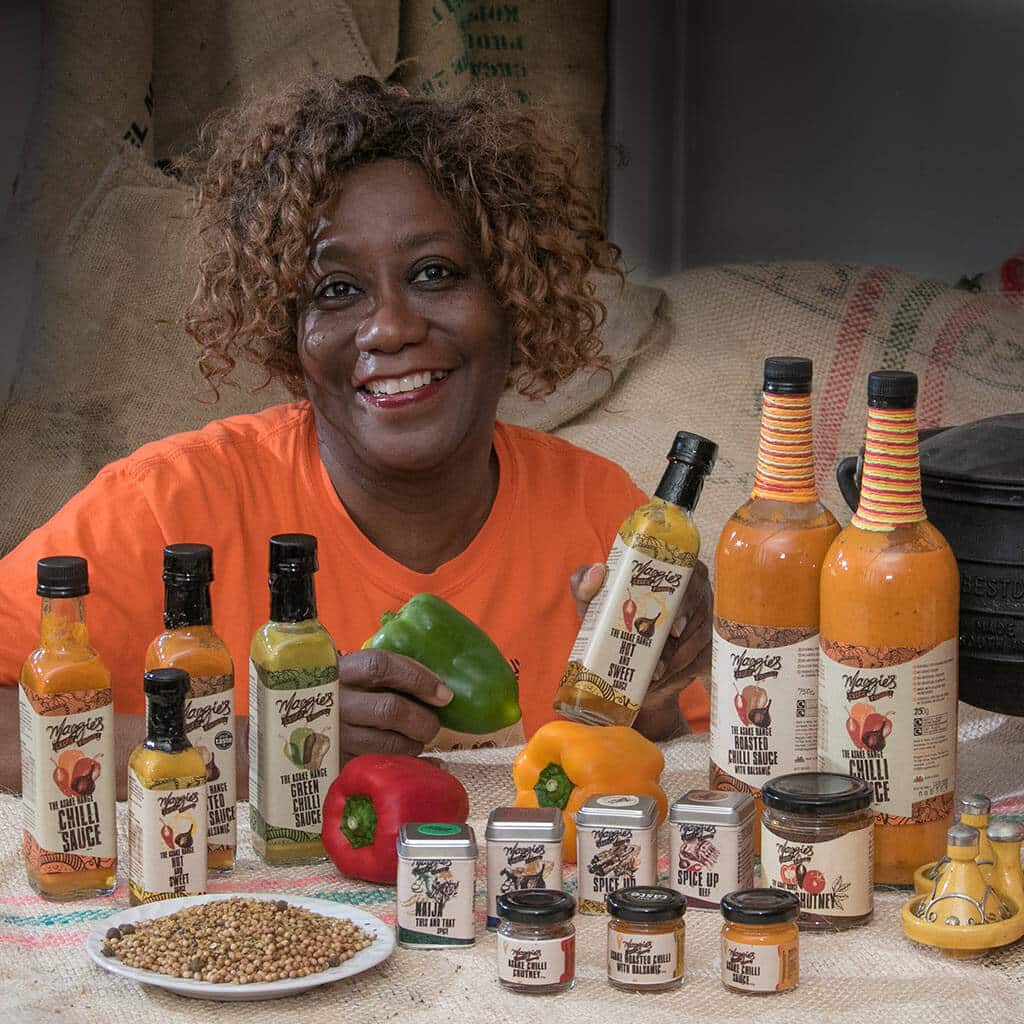 Maggie has worked closely with Business Wales throughout her business journey. Supported by Growth Advisers who helped her access a grant and signposted to opportunities, including trade missions, workshops on merchandising and sales strategies. The support gave Maggie the confidence boost and encouragement she needed to succeed.
Maggie received support from a Business Wales mentor, who shared her wealth of knowledge and experience to provide direction and support to enable growth, which allowed her to take on new contracts.
Maggie has now become a Business Wales mentor herself.
Maggie commented: "My Business Wales advisers have helped me considerably, always willing and available to help my business grow. More recently, I was introduced to the fabulous mentoring scheme, run by Business Wales. Not only did I find a mentor in Janet Matthews, but have signed up to be a business mentor myself. Janet has the knowledge of working in the UK in a self-employed capacity spanning many years and can plug gaps in my knowledge as a business person in the UK.
I recognise and am very appreciative of the role Business Wales has played in my growth and development as a person and as a business since setting down my roots in North Wales more than 10 years ago."